Documentary Production – DSLR shoot – Pune & Hyderabad, India
Brought in by

Hart in Media,

TempleFreelance travels to India to film a documentary produced & directed by Vicky Hart

'Magic In Our Hands' is a multi-layered film project with the aim of promoting the social value of the art of puppetry and to share human interest stories and creativity with the world. I first worked with Hart in Media on their previous production, Master of Puppets as an editor, following the success of this film I was asked to come to India to shoot their 2nd film Magic in our Hands. The story will follow Padmini Rangarajan, an Indian puppeteer who uses her talent and imagination to tackle a wide range of global, and often sensitive issues; such as community education, child development, health and AIDS awareness, women against conflict, the environment and more.


Shoot Day 1 – Tuesday 12th February 2013, Pune, India
After recovering from a 19 hour journey the previous day and my first experience of Indian traffic, we traveled to Pune University where Padmini, one of the puppeteers we are following was invited to teach a lesson in puppet making to a number of the university's performing arts students. The first day of a major shoot is always a slow one but after months of planning we were finally underway and filming. The students were tasked to make puppets from recycled materials. Shooting on the Canon 60D, using a 18-85mm lens, the day was mainly taken up buy shooting the lesson and the students as they worked, we also managed to join them for lunch!. As the sun set we were able to walk the grounds of the university where some of the buildings date back to the British rule of the 1900′s and shoot some views of the scenery and the students. Stunning location, Great day!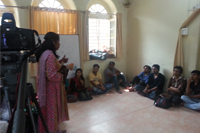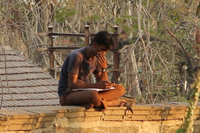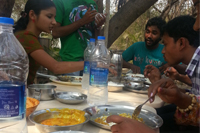 Shoot Day 2 – Wednesday 13th February 2013, Pune, India
After a very successful first day, we were up and ready for day 2. So hailing a motorised rickshaw we headed (via the only Costa Coffee in the city) back to the University of Pune. Again we were working with the performing arts students as they completed the puppets that they had started to build yesterday. The day was mainly taken up with shooting GV's of the class as they worked. After lunch the whole shoot was nearly shut down as an over zealous official from the university claimed that we hadn't ask permission to film on the premises (of course we had!), so after intervention from Vicky and a quiet word from Padmini the cameras were soon rolling again. In the afternoon we managed to shoot our first interviews of the project. The first was with Padmini and one of her students, Naresh, who had completed the build of his puppet (see the video below), the second was a more formal interview with Padmini herself, sat in front of the performing arts building. The day ended with my first ever experience on a motorbike, as the students offered to drive us the 1.5 miles from the performing arts buildng to the university main gates. Before I knew it I was riding pillion with a tripod strapped to my back on the roads of India. I'm glad to report I survived the trip!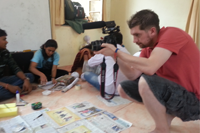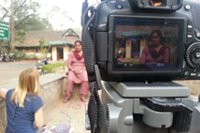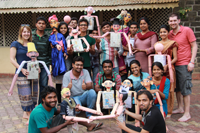 Unedited footage of Padmini & Naresh's interview
Shoot Day 3 – Thursday 14th February 2013, Pune, India
Day 3 soon came around and agian we boarded a rickshaw and braved the Indian traffic. The performing arts students at Pune university were today finishing off their rod puppets that they had been preparing since we'd arrived, with a view to moving onto foam glove puppets. Vicky and I even managed to find the time to make our own, not too sure that they matched up to the efforts of the students though! Today's shoot was dominated by interviews, mainly with the students. We did go in with the intention of speaking about performing arts and how puppetry is involved, but found them willing to discuss subjects such as women's roles within the theater and also how one husband, (unbeknown of his in-laws) has given up his well paid engineering job to study performing arts. For the second day running we were nearly shut down, as while I was setting up to shoot an interview, I was summoned to the security office by a large security guard blowing a whistle. I was joined by 3 other guards (all unsmiling and sporting rather large moustaches) who again claimed we didn't have permission to film on the university grounds. I of course apologised and did what any self respecting camera operator would have done – went around the corner out of site and set up there! The interview in question was with Dr. Praveen, from the performing arts dept about why he invited Padmini into the university to teach the course. We soon packed up, headed back to our hotel, dumped or bags and headed out into Pune in search of a well deserved beer, I'm glad to say we found one, with the added bonus that it was in restaurant that served meat on the menu – of course with curry sauce smothered over it! Tomorrow is our last day in Pune as we leave for Hyderabad on Saturday. We'll definitely miss the students and staff of the university, but not necessarily their security guards!!!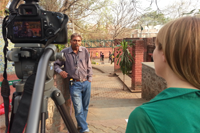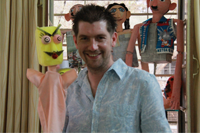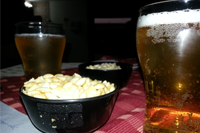 Shoot Day 4 – Friday 15th February 2013, Pune, India
Our last day in Pune had soon come around and again it was back on the rickshaw to head for the University. Today the students were finishing the glove puppets that they had started yesterday and moved onto creating shadow puppets. They were also given the task of performing an improvised puppet show just for us. We shot an interesting interview with Padmini and 3 of the students who, away from the university teach children and young people drama, they discussed many things including how they would use what they have learned this week in the classes that they teach. After lunch it was time for the performance. The students decided to base their production around an audition for a film, with each student's puppet having to perform in front of the director & producer. Even though the students performed their play in their native Marathi language, it was surprisingly easy to follow. Once the performance was complete we said our goodbye's to the students and thanked them for their co-operation over the past 4 days and headed off in a rickshaw with Padmini and 3 of the students into Pune itself, to take in the sights and smells. India is a hugely colouful and lively country and the centre of Pune is no exception, we toured the market place and shops and were amazed by everthing around us. Tonight is an early night as the alarm will be sounding at 3.30am so we can catch a sleeper train to Hyderabad, where, again we'll be following Padmini as she aims to educate and enlighten people about puppets and the performing arts.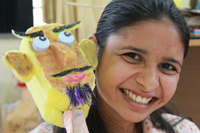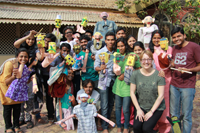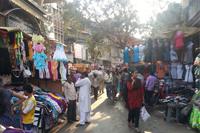 Unedited footage of the students improvised puppet performance
Day 5 – Saturday 16th February 2013, Pune/Hyderabad, India
We had a very early start this morning as we had to be at Pune train station for a 5am train to Hydereabad, where we would be staying for the remaining 2 weeks of our trip. The train left perfectly on time and, as well as fellow passengers we had a number of mice for company scurrying around the carriage, 9.5 hours later we arrived in Hyderabad. The city seems to be split into 2 main areas, the rich and the poor. Our hotel is situated roughly on the edge of both. It's seems strange that you can be stood near to a man on the street begging for loose change and then cross the road to walk into a shopping centre that hosts such shops as Calvin Klein. After eating curries for breakfast, lunch and dinner for a week now we decided we needed a change and managed to track down one of India's only 2 Hard Rock Cafe's. Burgers & beer was the order of the night as Vicky & I certainly let our hair down!!!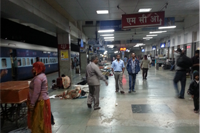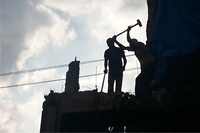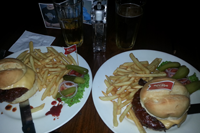 Shoot Day 6 – Sunday 17th February 2013, Hyderabad, India
Our first day shooting in Hyderabad started at around 11am at Padmini's theatre office which is just a 100yds walk around the corner from the hotel that we are staying in. Before setting off, we jumped in a rickshaw and made our now customary trip to a coffee shop, for some strange reason though, the coffee served by the Indian coffee shops are about 200% smaller than those in the west! After the caffeine had kicked in we made our way to Padmini's theatre. We met a number of new students who are working on a project sponsored and run by Nokia called 'Create to Inspire'. The project aims to raise awareness on sustainable consumption such as e-waste and transport. We spent the day getting to know the candidates and filmed them as they planned a puppet performance that they will be putting on next week, although the filming itself went well we were interrupted a number of times by a large cockerel outside the window who would not keep his beak shut – the perils of filming in India! . We ended the day filming a few views around Hyderabad and ended up watching a group of children playing cricket in the street – a truly stereotypical view of India for sure!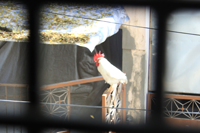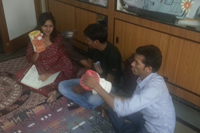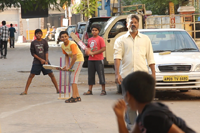 Shoot Day 7 – Monday 18th February 2013, Hyderabad, India
With our first week over we started week number 2, again at Padmini's theatre. She is mentoring a number of students for a project backed by Nokia, as a part of the project they have to create puppets and perform a story based around a number of subjects including Transport & E-Waste. Before the main performance in July they have decided to perform to a group of students from a local university. The story that they have decided to perform is based around the Draupadi story from ancient India. According to the fable the story goes:

'A man bet and lost his wife in a game of dice, when she is summoned by the man who know owned her she begged and pleaded with her husband and family to help her, they were unable to, as they had also lost themselves in the dice game. Her new 'owner' then tried to strip her of her clothes for everyone to see. She prayed to the god, Krishna who appeared and gave her a never ending sari, so it could never be removed. Krishna had saved the honour of his devotee'

The students will perform the play using traditional shadow and stick puppets. Today they started to design and produce the shadow puppets as we spent the morning filming them. We also met Krishna (not the god!), who runs his own NGO who has been tasked with being a team leader in the Nokia project. We spent the afternoon discussing the next weeks shoots as he seems very well connected and a very good man to know in India! Things seem to be really picking up with the shoot now we're in Hyderabad, a few things still need to be organised, so watch this space!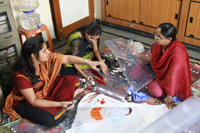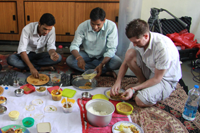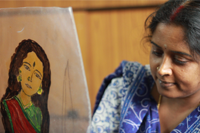 Shoot Day 8 – Tuesday 19th February 2013, Hyderabad, India
We started our day with our mandatory search for good coffee, which in India is no mean feat! We went to the same restaurant as we ate at last night, fortunately their coffee is 100 times better than the food – You should see what they do to a Greek salad!!!! However, full of caffine, we again made our way to Padmini's theatre where the students continued to build their puppets with a view to start rehearsals tomorrow. We shot a few more gv's, and also an interview with 2 of the students, Abi & tanuja (using the 50mm fixed lens) They spoke to us about their work with Padmini and also their views on e-waste. We then climbed the stairs to the rooftop where we had a great view of the Hyderabad skyline and shot an interview with Padmini (You can see a preview below). She then took us to a temple where we saw the locals praying while Padmini explained all that was going on. Vicky & I were amazed by the whole spectacle, I even managed to shoot a few minutes of footage. Not too sure if it will make the final edit of the documentary but it was definitely well worth the trip. India is certainly a truly wondrous place with so much to see and learn. We ended the day with a meal at an all you can eat BBQ restaurant, with chicken, fish & prawns cooking over hot coals on our table I'm certainly ending the day with a full and satisfied stomach!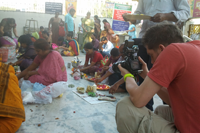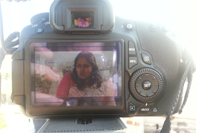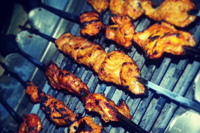 Unedited footage of Padmini & Abi discussing mobile phone E-wast
Shoot Day 9 – Wednesday 20th February 2013, Hyderabad, India
After a fantastic meal last night we awoke raring to go. The students today were supposed to be rehearsing and putting the final touches to their performance before their show tomorrow to a University. As we only really needed to film a few hours of the rehearsals, we had planned a well earned break this afternoon as we hadn't really had a day off since we arrived in India a week and a half ago. Unfortunately things didn't really go according to plan. We should have seen this coming as the day didn't really start too well! We struggled to get an auto rickshaw to the coffee shop as they were all on strike & when we finally did find one, the coffee shop was shut as they hadn't finished cleaning. We wound our way back to our hotel and decided to grab a quick coffee from Mcdonalds – Not the best start to the day! We arrived at Padmini's theatre expecting the students to be ready, unfortunately they had run massively behind and were still building the puppets. As we'd already shot a lot of footage of them building and preparing we didn't need any more, so not wanting to miss the rehearsal we decided to wait until they were ready – six hours later we were still waiting! We did shoot another quick interview with Padmini about the performance but the day was taken up with us twiddling our thumbs. The students were finally ready by about 6pm, so we made our way up to the rooftop where they had planned to rehearse, and shot the 15mins we needed – Who said this job was glamorous or exciting!!! We've got an early start tomorrow as the students are going to be at the university performing their first production. The evening ended in as much chaos as it started, after dinner Vicky & I jumped into a rickshaw, agreed a price with the driver and set off back to the hotel. Unfortunately the driver didn't know the way and after 20 minutes of driving around in circles in the middle of Hyderabad and asking 3 people for directions we somehow stumbled across the hotel. The driver, not too happy with the extended journey tried to ask for more money. After the day we'd had, we politely refused his kind request!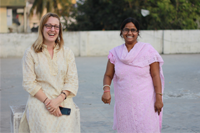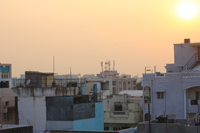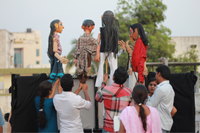 Shoot Day 10 – Thursday 21st February 2013, Hyderabad, India
If yesterday was a frustrating day then today could definitely be described as a little bizarre! We had an early start, leaving the hotel for a 2 hour car journey to the region of Mahabubnagar to visit the Palamuru University, where Padmini and her students were to perform the puppet show that they had been preparing for all week in front of an invited audience made up of students, senior staff and professors from the university. Maybe Vicky and I were a little guilty of expecting something a little more low key but when we arrived we were surprised to be invited to take tea with the university's vice chancellor (in India the vice chancellor is head of the university). When we had finished we went to shoot a few pieces of the students and their final rehearsals, they all looked very nervous as show time approached. We then moved into the area where the performance was taking place. We were again surprised to see 6 local TV crews and a number of photographers from the local press. The vice chancellor and other senior members of the university were welcomed to the room and along with Padmini took there place on a table at the head of the room. Padmini was introduced and explained about the play. It was then our turn to be in the limelight as 'Miss Victoria & Mr Semen' were welcomed to the stage, microphones were then thrust into our hands and we were asked to introduce ourselves to the crowd of around 150 and describe what we were filming! After we managed to get out a few words we quickly scurried back to our positions. It was then the students turn to grace the stage, the performance they put on told the story of a group of friends (made of rod puppets) who went to see a traditional shadow puppet show about the story of Draupadi and the never ending sari (see the entry dated 18th Feb for the story), after the shadow puppet show the friends then boarded a bus home, where one of the female members of the group was assaulted. The students were raising the awareness of safety on public transport and the respect of women. The show was a huge success with the students receiving loud cheers and applause. A number of the university students then came up the voice their thanks to Padmini and her students. Vicky and I were then asked to pose for a number of photos with members of the university and also asked to give an interview for the TV cameras, I stepped back and was happy for Vicky to take the limelight! We really feel that after yesterday the documentary is back on track, on Sunday the students are performing again to another university and we're really looking forward to the reception we may receive!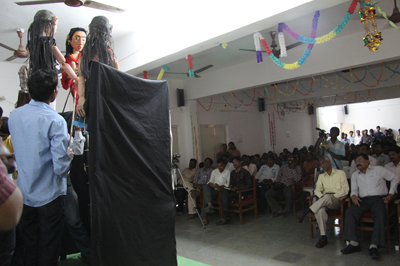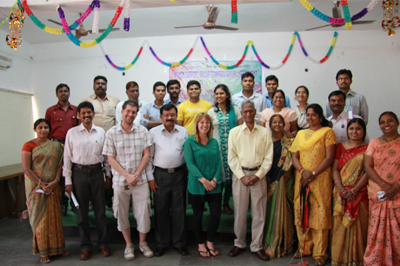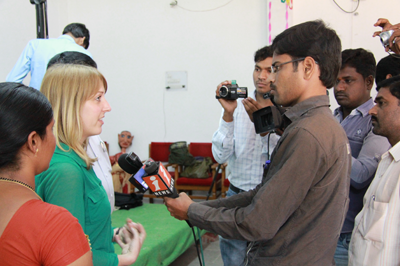 Day 11 – Friday 22nd February 2013, Hyderabad, India
Today we had an unexpected afternoon off , the plan was to meet up at Padmini's theatre and film the students making new puppets as they prepared for a presentation to Nokia on Sunday. Due to the bomb blasts last night in Hyderabad (which were only about 4 miles from our hotel) the majority of the city was closed down. The students were told not to travel into the city which meant that we had nothing to film. We had a meeting first thing this morning in a very lavish house with an official from the council. We were seeking permission to film in the city's waste dump as we need to show the problems of E-Waste that the students are covering in their performances. We turned up at the official's house and were kindly offered breakfast, myself, Vicky, Padmini & Krishna enjoyed a very good meal prepared by the cook and then went and sat and waited for whet seemed like an hour for the official to join us. When he eventually did, the meeting lasted all of 2 minutes. He said he would seek permission from a colleague and get back to us! Another strange morning in India!!! After arriving back at our hotel we were advised by our hotel manager to avoid crowded areas, so Vicky & I jumped into a rickshaw and drove the few miles to Lake Hussian Sagar. We were hoping to go on a boat trip to the golden bhudda in the middle of the lake but the boats were also not running. We decided to take a walk around before heading back to the hotel. Hopefully tomorrow things in the city will be getting back to normal.


Shoot Day 13 – Sunday 24th February 2013, Hyderabad, India
Well it had to happen at some point, after 2 weeks of eating curry and avoiding the dreaded 'Delhi Belly', yesterday it finally hit. Luckily we didn't have too much planned shooting wise, so while I spent the day recovering in bed Vicky & Padmini took in some of the sights of Hyderabad. This morning I had recovered enough to be back working. As it was Sunday the students were not attending the theatre today, so myself, Vicky, Padmini & one of the students Abi visited the Golkonda Fort that overlooks Hyderabad. Built in the 1500′s it still remains partially in-tact and if you're fit enough to climb all of the steps to the top (we just about manged it) you can see some fantastic views of Hyderabad. After we left the fort we had a lovely meal at the interestingly named 'Beach View Hotel'. I say interesting because the nearest cost to Hyderabad is nearly 800km away! After lunch we went to Charminar Market. On the way Abi bought us a local delicay called Pann. The core ingredient is betel, which is a nut from an Indian palm tree, the betel nut is dried and then either cut or crushed. It is often mixed with a red liquid made by boiling the wood of the Areca palm tree. A green leaf of a different tree, the Piper betle is spread out and the central thick stem removed before applying a dab of lime paste. I must admit it didn't look too appealing and didn't taste it either! In the market we wanted to film some of the 'real' India. We got some fabulous shots of market stalls, fruit and veg sellers and the general hustle & bustle of life in India. We go into our final week still with a lot to shoot. We have a meeting first thing tomorrow and then in the afternoon hope to shoot an interview with Abi about his views on the Nokia project.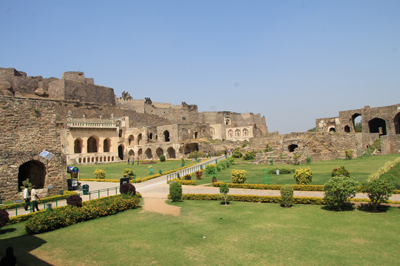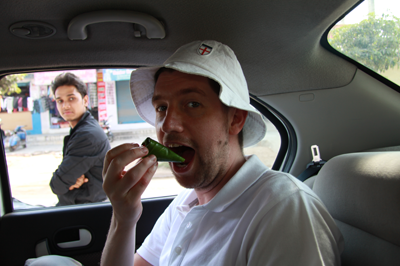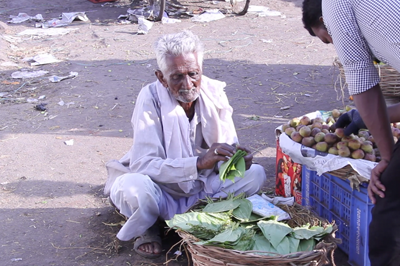 Shoot Day 14 – Monday 25th February 2013, Hyderabad, India
After a few days where production had seemed to have come to a halt due to the bombings and illness, today we were certainly back on track. The day started with a meeting at the local council offices with the Head of Housing Commission. We are still seeking permission to film in one of Hyderabad's e-waste sites. So far the whole process has been a bit frustrating as we have submitted a number of forms, sent emails and met with various officials. Hopefully tomorrow we'll have a decision. Since I've been in India I've been amazed at the way the roads are used and have found it hard to believe that there aren't more accidents, today we witnessed one first hand. We were in a car traveling to the Sultan Bizarre, to again film some colourful images of India with a driver and 2 of the students, Tanuja & Sweteha, when we heard a bang from the rear of our car. We turned around to see a moped skidding across the road with it's 2 passengers right behind it. Our driver pulled over and got out to check that everyone was OK, thankfully they were. We stayed in the car as our driver spoke to the passengers of the moped. For about 10 minutes heated words were exchanged as it became apparent that although uninjured the 2 passengers on the bike were asking for money from our driver. Out of the chaos, on a rickshaw and with a very determined look on her face, Padmini appeared and within 30 seconds we were all back in the car and on our way again. One thing I've learnt over the past 2 weeks is not to get on the wrong side of Padmini!!!! We soon arrived at the bizarre and got some great shots of the colourful stalls and characters. These are the shots that will bring the documentary to life and show the 'real' India. We then set off accompanied by Tanuja, Sweteha & Abi to find a bus stop so the girls could talk on camera about their frustrations with public transport. Filming in a crowded area in india is never a fun idea, it only took me the time to unzip my bag and open the box containing the mic and we had a crowd of 20 people around us trying to get a glimpse of what was going on, after a word from Vicky, and asking Abi to be on crowd control we managed to shoot the interview (see the video below for a preview). We then met Krishna at Mcdonalds and moved onto an area of Hyderabad where we needed to film some footage about mobile phone recycling. The area in question did not exactly welcome cameras as it is notorious for the selling of stolen phones and 'under the counter transactions'. It was something that we wanted to film, so using a discretely hidden camera we followed Krishna & Abi as they walked around the shops. The footage turned out to be better than we expected (I'll try to upload some in the next few days). After a long days filming we returned to our hotel to freshen up and go out to eat. The Blue Fox was tonight's venue where after a good meal and a customary argument with a rickshaw driver over the fare we finally turned in for the night!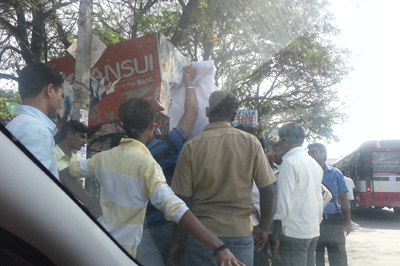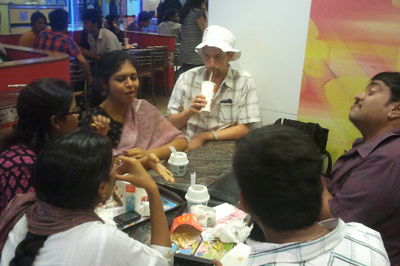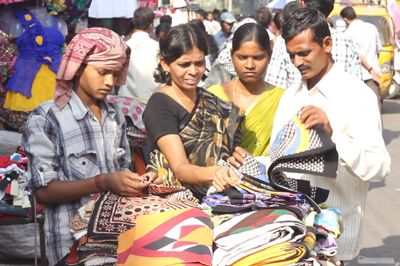 Rough cut of Tanuja & Swetha discussing issues of transport safety & reliability.
Shoot Day 15 – Tuesday 26th February 2013, Hyderabad, India
We set off this morning on our usual run to Coffee Day for our early morning pick me up and decided to take a long the camera. The shop the we visit every morning has a busy bus stop outside and we've spent a few mornings watching the locals literally jumping on and off the buses. After yesterday's interviews with Tanuja & Sweteha reveled the problems that they faced while traveling on the buses, we decided to shoot a few shots. As we arrived there was a crowd of about 40 people all waiting, and as a near full bus pulled up, the crowd split into 2 groups with the women entering from the front and the men going in via the back door. Much like the roads here in India nobody seems to wait or give way, with everybody fighting to both get on and off at the same time. The driver of the bus also drives off after a set time whether all passengers have boarded or not. We got some great footage of a few male students running along side the bus, jumping on and hanging onto the window. After coffee, we again went to the Sultan Bizarre to take a look around and do a bit of shopping, we then met up with Krishna who took us along to see another of the groups who are working on the Nokia project. The photography group is led by Ranjit Sinha, a fashion photographer who has exhibited his work all over the world. It was fascinating talking to him about his theories behind using photography as an art of expression and how he's mentored his students to tackle the 2 subjects that they have undertaken – transport & water consumption. We hope to shoot an interview with him before we leave for home. We needed to leave, as we had to go and meet Padmini at Lake Hussian Sagar. We had arranged to board a bot to travel to the Golden Buddha which is on an island in the middle. While making the journey we shot a fantastic interview with Krishna & Padmini about how they became involved in the Nokia project and how they saw some aspects of life in India today. Tomorrow is another busy day as we plan to shoot an interview with Abi in the morning, visit the animation group from the Nokia project after lunch and then shoot a traditional folk festival in the evening, but considering how things run here in India who knows what will happen!!!!!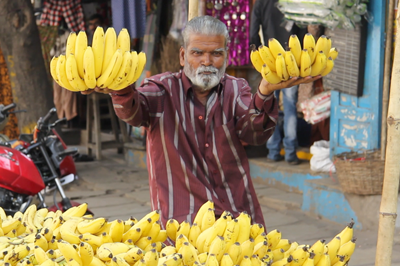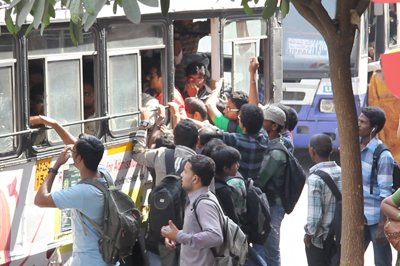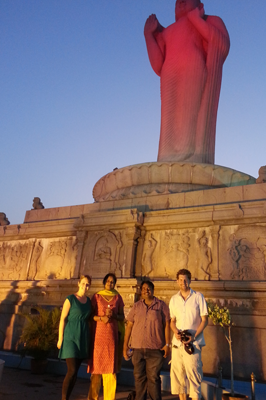 Shoot Day 16 – Wednesday 27th February 2013, Hyderabad, India
As we move into our final few days our thoughts are starting to turn to home, although we still have a few very important days filming ahead of us. After our usual breakfast trip to Coffee Day to get our caffeine fix we met up with Abi, one of the students to discuss his research on e-waste. The plan was to travel to Lumbini Park and find a quiet spot away from inquisitive eyes so we could shoot the interview. Unfortunately the park was still shut due to last weeks bombings. With time against us we needed to find an alternative location. Walking around Hassain Sagar lake we found a shaded spot under a monument. Unfortunately it wasn't quiet enough because as soon as I'd unzipped the bag we were joined by a security guard and 2 beggars who we all wondering what we were up to. Thankfully Abi was able to handle the pressure of not only having a camera pointed at him but also a crowd of around 10 people as he gave an excellent interview. After we'd finished we packed up and headed back to Chikkadpally for lunch. We then returned to our hotel and edited together another preview video using footage from last night's interview with Padmini and today's with Abi (see the video below), before setting off to a cultural centre where we filmed a number of tribal dances and a short presentation from Padmini. After avoiding the attentions of a small child who wanted to run off with some of the smaller parts of my kit (including the camera case's lock) we headed back into town for a well earned dinner and pint of Kingfisher!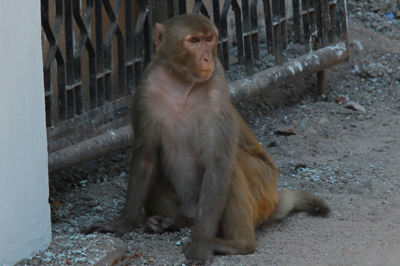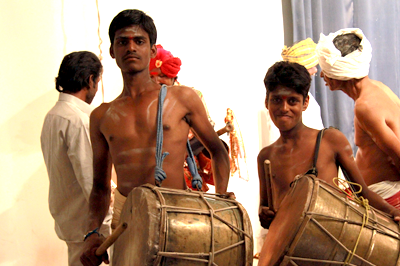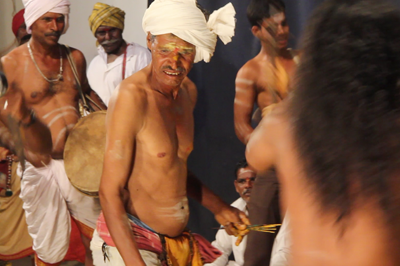 Shoot Day 17 – Thursday 28th February 2013, Hyderabad, India
Today was the day that we had been lobbying for since we arrived here in India. A part of Padmini's work in the Nokia project is using puppetry to tackle e-waste issues. So far we've carried out a number of interviews on the subject but needed to see and film the dump sites themselves. Unfortunately after a number of emails, phone calls and meetings, permission to film on the dump site had still not been given, so myself, Vicky, Padmini and a number of the students from the project jumped into a car and made the hour long journey to the site in the hope that we could gain permission there and then to film. Again we were unsuccessful. We decided, instead to go and film in the slum area that was situated right next door to the site in the hope that we could speak to the residents who both live adjacent to and work on the site. Thankfully they were very keen to talk to us. I was amazed at how many children we running around the site for a weekday when they should have been at school (we probably had about 20 of them with us) and also how the older siblings, aged around 9 or 10 were in charge of looking after their baby brothers and sisters while the parents worked. Pramathi spoke to one man who worked on site and he explained about his working life and about how he once discovered the body of a nine month old baby girl buried in the rubbish – See the video below for a snippet of the interview. Padmini also used her puppets to speak to the children about their life in the slums. It was a truly humbling experience and really makes you appreciate what we have! After we left the slum site we travelled to the technological area of Hyderabad where we were invited to dinner with Shashi Kumar, a director of a local IT company. He gave us a detailed presentation on his companies view on the e-waste problem and how it could be addressed. India currently imports a huge amount of e-waste from around the world and maybe if we all thought about disposing our mobiles & computers responsibly it would have a major impact for good on other countries. We ended the night with a burger and a drink at The Hard Rock Cafe, on the way back we had our usual disagreement with the rickshaw driver who demanded more cash than we had originally agreed after arriving at our hotel, this time though, a police car was passing and 3 rather burly looking officers got out, thankfully they took our side of the story and we retired to our rooms for the night leaving the rickshaw driver still arguing with the police. Today has certainly been an eye opener, I know that when I leave India in a few days time I'll return to the UK well aware of how my actions can effect other countries many miles away and be very grateful at what I have.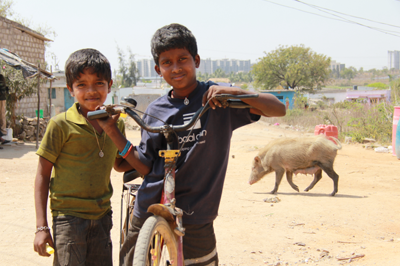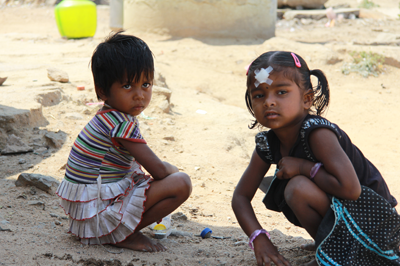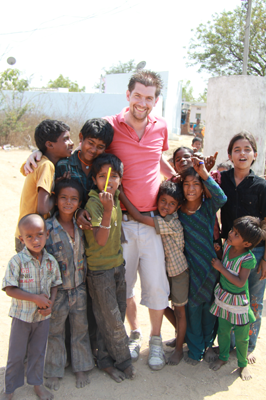 Shoot Day 18 – Friday 1st March 2013, Hyderabad, India
We started today with a rare morning off, so Vicky and I set of on our usual walk to Coffee Day. After we had our fill there we realised that we still had an hour or so to kill before we set off for the day's filming so we carried on walking up the road to The Chocolate Room. As we'd already eaten breakfast we thankfully didn't need to order anything from their menu so we just ordered more coffee! After we'd returned to our hotel we prepped the kit for the day's shoot. We jumped in the car and traveled to 120km or so to the Zilla Parisha High School in Hannumanthapuram. We were the to see a performance of traditional wooden string puppets which hale from Ammapuram village in Nermeta Mandal. As we turned up around 150 students aged between 5 & 16 were sat in from of a stage waiting for the performance to start. Our arrival caused a bit of a stir as I don't think they had seen many westerners before. Once the performance got underway all eyes were on the stage as the puppets told the story of Luv-Kusha Yudam which means 'Sons of Rama Waging War Against Him'. Rama's wife Sita is exiled, during her exile she bore 2 twins boys. Years later they end up in a war against Rama who they soon discover is their father. The performance was very well received by the students who sat quietly during the hour long performance. The puppets themselves were over 150 years old and weighed around 18kg each. It was great to see a different style of puppetry and a young generation entertained by traditional puppets. After the performance finished and the children were told they could go, Vicky and I were mobbed with them all wanting to shake our hands and say 'hello'. We even got asked for our autographs!!! We did however manage to jump in our car to make the long journey back to Hyderabad..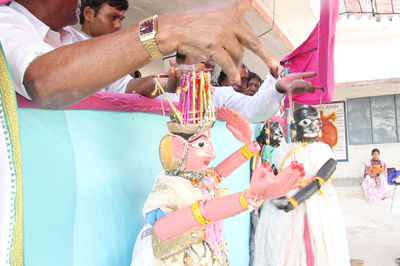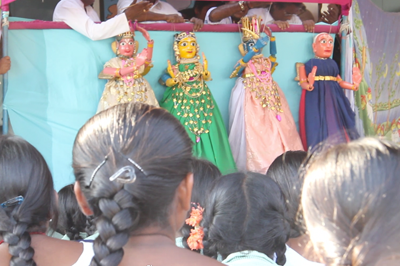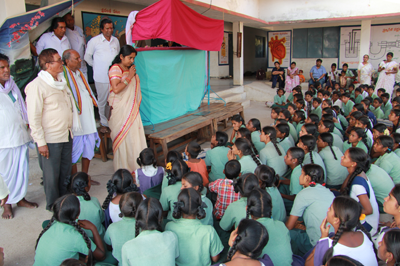 Day 19 – Saturday 2nd March 2013, Hyderabad, India
Preparation for today started late last night. Vicky mentioned to Padmini that she was going to put together a press release to send to a few of the local newspapers to publicise our visit here to Hyderabad, before we knew it Padmini had got in contact with a colleague and organised a press conference for us at the city's Press Centre. So after we returned from dinner Vicky sat down and wrote her notes to present to the local journalists and I put together a quick edited highlights of our stay here in India. We woke up this morning, finished preparations and made our way to the Press Centre. As well as Vicky speaking and answering questions, and the video that I'd produced, the students had also agreed to give a quick demonstration of their puppeting skills. The press conference started with around 15-20 journalists sat in front of us, Vicky gave an excellent presentation about the film we were producing which Padmini then translated into Telugu. After the video was played and the performance from the students Vicky was asked to pose for a number of photos and interviewed by a local TV channel – She was even 'papped' after we left! We're not sure how much coverage we'll get but I'll definitely keep you updated! After we left we returned to Chikkadpally and Krishna's office. We sat down with Pramathi who helped us translate the interview that we shot a few days ago in the slums, into English. Shopping was the next port of call as myself, Vicky & Padmini went into town to by a few things before we leave for home. Not a lot to report filming wise today but hopefully a very productive time for the film itself!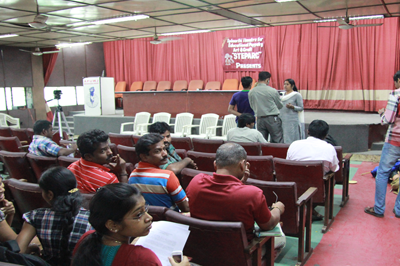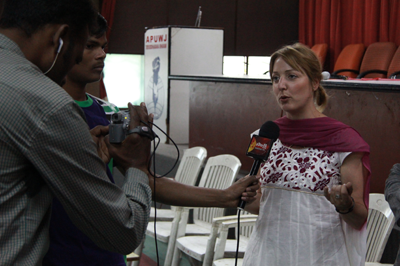 Shoot Day 20 – Sunday 3rd March 2013, Hyderabad, India
So our final day filming here in India had finally arrived, after a trip to Coffee Day we jumped in a rickshaw to make the short trip across the city to meet up with the students we have been following for the last 2 weeks and a number of other students who are involved in the Nokia project but in different areas, namely photography, art, dance & performing arts. The different groups had arranged to meet up so they could exchange ideas and update each other on their progress. We used the time we were there to shoot a few final interviews with the students and film a group discussion that the puppetry team were going to have which covered their activities over the last fortnight. The first student we interviewed was Bheema, although he has been with us for the full 3 weeks of our trip he hasn't really featured too much in the interviews that we have shot since his English isn't very strong. However as he has such an important role within the project and Spoorthi Theatre we decided it would be great to hear his views. He spoke in Telagu with Padmini translating for him and he gave some excellent answers, especially when quizzed about his aspirations for the future. The only problem we did run into was the location we chose for the interview. we didn't realise until we had started to roll that we were sat right next to a drain, and the smell that was released every few minutes was almost unbearable. While most of us held our breath, especially Vicky (see the photo below) Bheema soldiered on without batting an eyelid! Tanuja was our next interviewee and I'm sure she was thankful that we'd decided to move locations. We chose a rather unusual spot on a central reservation, but it looked great and again she gave a great interview. After lunch the students put on a puppetry performance for the other groups which went down really well. We then asked Pramathi to join us for an interview. She had been concentrating her research while on the project on e-waste and had really helped us out when we visited the slums a few days ago when she interview one of the workers who told how he'd discovered the body of a 9 month old baby while working on the dump site. We wanted her to open up and discuss how she felt after her visit to the slums but was finding it difficult to express her emotions on camera. The location we had chosen was next the the lake that sits in the centre of Hyderabad. If you look at it from a distance, the view (especially when the sun is setting) is stunning, but get close to the shore line and you'll see piles & piles of rubbish, especially plastic dumped on the floor. On camera we discussed the slum visit and her thoughts on the litter problem that India seems to face. After the interview we returned to the hall where the Nokia fellows were and shot a group discussion, led by Padmini, where the students discussed the last 2 weeks, again Padmini ask Pramathi her feelings after the slum visit and she finally opened up and showed how she had been effected by the experience, summing up a very emotional day. And that was a wrap! We packed away our kit, posed for a few final photos with the puppetry students and said our 'goodbyes'. We leave our hotel at 5.30am tomorrow morning to head back home. It's been a fantastic 3 weeks, we've met some amazing people and seen some wonderful & bizarre sights. We hope to return in July to complete filming but for now, home is calling!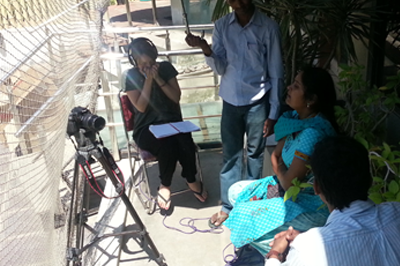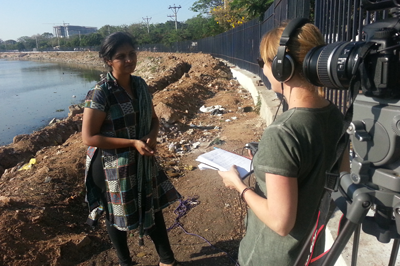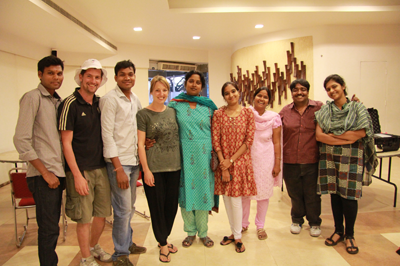 Shoot Day 21 – Saturday 20th July 2013, Hyderabad, India
…And so we've finally returned to Hyderabad and all it's madness. We arrived yesterday afternoon after traveling for around 15 hours, which turned out to be an adventure on it's own, with our car breaking down on the M25 about 8 miles from Heathrow, Vicky calling a friend to come and rescue us and then us going to the wrong terminal. After we finally arrived at terminal 4 I was held up at security with 'something suspect' appearing on the security x-ray of my flight case, which held all of my kit. Thankfully it turned out to be an audio adaptor which apparently looked like a bullet! After all this we boarded the plane with only about 10 minutes to spare – panic over!
When we did arrive in Hyderabad it was great to meet up with Padmini, Bheema and a few of the other students who we met in February. We planned our fortnight here over a cup of Chai tea went out for a bite to eat and turned in for the night.
We woke for our first morning's shoot and retraced the steps we had made many times on our previous visit to Coffee Day for breakfast, collected our kit and jumped in the car to make the short trip to 'Cyderabad'. This is the part of the city which has been renamed locally, as it is one of the emerging technology hubs of India. It hosts major companies such as Google and Microsoft. Our first port of call was to a company called Ananath and one of it's directors Shashi Kumar. We met him briefly on our first visit and he was very happy to talk to us about India's e-waste issues and how his company handles the problem. He had prepared an in depth presentation filled with statistics and examples of e-waste which will come in very handy as a research tools for putting the documentary together. We were amazed to find out the huge problem that we, as a planet are facing. Over the last 10 years the levels of lead in Indian's blood samples has risen by a massive 10% and as well as effecting the population it also has a massive impact on the environment, with crops (that are grown and exported back to the west) being polluted as well. After lunch we jumped back in the car to shoot some of the sights of 'Cyderabad'. After returning, we set up to shoot an interview with Mr Kumar so he could explain on camera the problems that evolving technology causes. With both Vicky and I very satisfied with our first day, we're certainly looking forward to the next 20!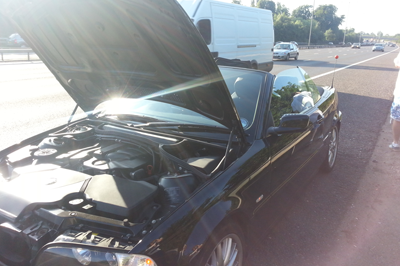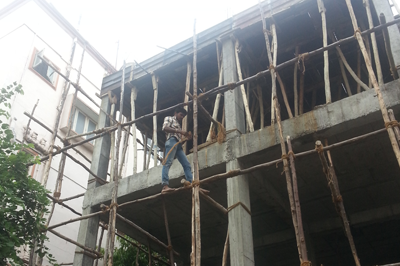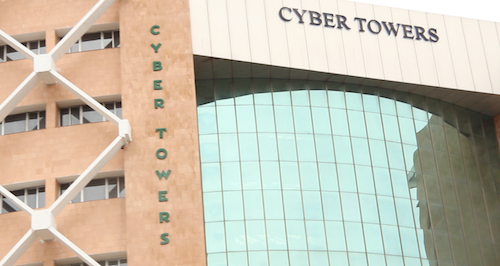 Shoot Day 22 – Sunday 21st July 2013, Hyderabad, India
Day 2 was here and both Vicky and I were now well into the swing of things when it came to shooting the documentary and adapting back into to Indian life. We woke early and made our usual trip for breakfast without realising that Sunday trading hours seem to be in affect here in India as well as the UK. With Coffee Day closed we made our way back to our hotel to wait until we were picked up by Padmini and a couple of the other students in auto rickshaws to make the short trip to Lamakaan which is an open cultural space where locals can come to meet, rehearse and discuss the arts. Padmini had organised a session for parent and teachers who wanted to learn how to make puppets to entertain and educate children. We spoke to a number of teachers including one that now works in a nursery for toddlers from 18 months to 6 years. She already used puppets as a way of stimulating her students and wanted to gain more methods. She explained that puppetry was a great way to engage children and really deliver the education and learning that they need. After lunch, we left and headed back to the hotel where Vicky met a journalist named Lata Jain from Hans, a local newspaper. Just like Vicky, she has also researched and run a number of stories on e-waste so wanted to interview Vicky about her film and what she hoped to achieve. The article should be published in tomorrow's edition. Our final port of call was to 'Eat Street', an area in Hyderabad that sits along side the Hussain Sagar Lake. In the centre of the lake sits a huge Buddha statue that is lit in alternating colours. Over dinner, we set up a camera to shoot a timelapse of the sun setting over the lake. unfortunately as we are in the middle of monsoon season here in India we haven't seen the sun since we've arrived. Instead we got some fantastic footage of day turning to night against a stunning backdrop.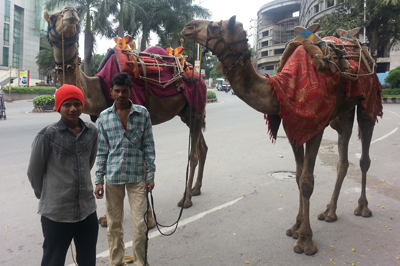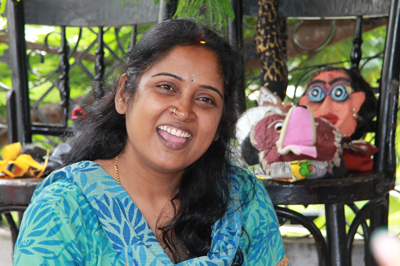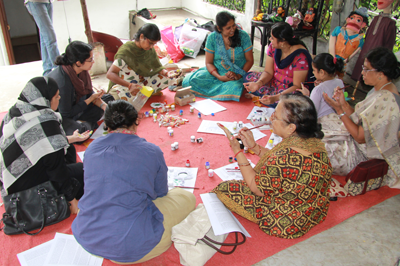 Timelapse footage of the sunset over lake Hassain Sagar.


Shoot Day 23 – Monday 22nd July 2013, Hyderabad, India
We awoke this morning to a deluge of rain. Although it's monsoon season here in India we have so far been lucky and have stayed relatively dry. After breakfast we picked up a copy of the Hans newspaper, yesterday Vicky was interviewed by them and we excitedly flicked through the pages to find the story. The good news was that they had given us a half page spread, the bad news was that they had obviously forgotten to ask for a photo of Vicky, so rather than requesting one they used a stock image of someone who (sort of) looked like her! It was then time to travel to the Hyderabad press centre where Padmini had organised a press conference for Vicky to publicise the documentary. We were lucky enough to have quite a large turn out with around 15 to 20 journalists from both local television to the written press. Vicky gave a presentation and Padmini and her team also gave a performance. It was then time for Vicky to face the cameras. Obviously back in the UK the TV crews would wait their turn for a 1 on 1 interview, but not here in India. Before Vicky knew it she had around 7 or 8 cameras surrounding her and just as many microphones to speak to. I slyly moved out of the way to let Vicky take the limelight (plus avoiding being caught in front of the camera is my main aim), unfortunately one of the crews who was waiting for a 1 on 1 interview saw me and before I knew it I was giving an on camera interview to CVR News! After Vicky had given a few more interviews (and I'd managed to avoid any more) we traveled with Padmini and Shasi Kumar to the Earth Sense recycling plant. This one of the few facilities where e-waste is recycled here in Hyderabad. At first they were reluctant to let us film but after we assured them that our intentions were to paint them in a positive light they let us shoot. We followed Padmini as she was given a tour of the facility by two of the managers. we were amazed to see how labour intensive the process was, with each item being dismantled by hand. Thankfully all of the materials that enter the unit are disposed of in a safe and environmentally friendly way. Hopefully this is an example that the rest of India will follow.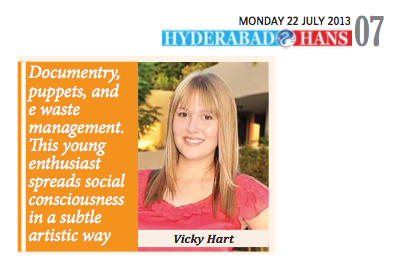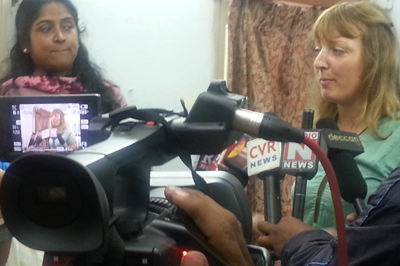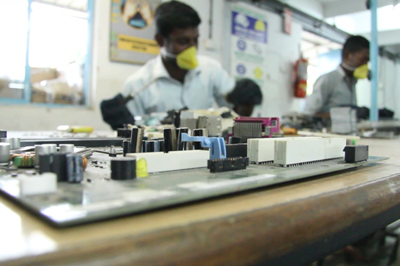 Shoot Day 24 – Tuesday 23rd July 2013, Hyderabad, India
We didn't have a huge amount planned for today so set out on our walk to Coffee Day armed with the camera hoping to shoot a few of the sites. Having spent the last few months going through all of the footage that we shot back in February, we came here with a 'shopping list' of shots that we needed, and while walking around the city over the past few days we had seen many of them, but being without a camera we were unable to shoot them. Luckily this morning we were able to see the sights we wanted, namely women cleaning and poverty. Trust me, in india there is a lot of poverty to shoot. After breakfast we headed to Padmini's theatre where she had collected a number of newspapers containing reports from the press conference yesterday. We even managed to make the front page of the City Express! We also saw a youtube video from CVR TV News which was broadcast late last night which contained an interview with Vicky. They even managed to out do the Hans newspaper (who printed a picture on Monday that wasn't her) by running the wrong graphics in the opening of the show. Instead of promoting a story about a UK documentary maker, under the shot of Vicky the graphic read 'Have you seen this man?' (See the video below at 00.53secs). Vicky then had another interview to undertake as new Hyderabian TV channel Deccan TV had ask to speak to her. We were under the impression that again this was just a 5 minute package to be included in the evening's news but it turned out to be a 30 minute programme to be broadcast later this month. Of course this meant that we we still sat there 3 hours later. After the interview had finished we went with Bheema and few of the other students to see how their preparations for the final performance has been progressing. We were amazed to be confronted by an 8ft plus puppet of a man, equipped with moving arms and a compartment for the operator to hide. After shooting a few bits and taking some photos we returned to the hotel and prepared for dinner!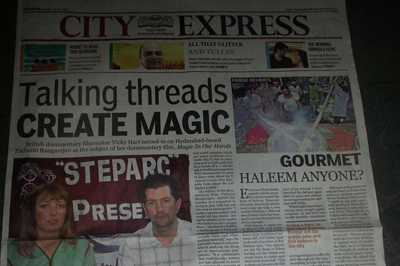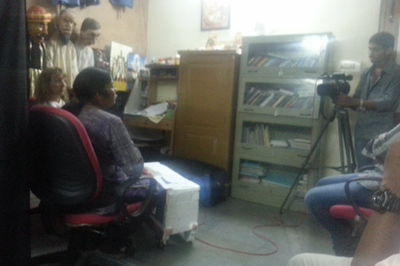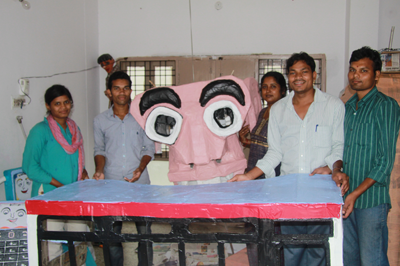 Vicky's interview on CVR English news (go to 14.56mins)
Shoot Day 25 – Wednesday 24th July 2013, Hyderabad, India
For the first time since we've been here in India we awoke to brilliant sunshine, so for once vicky & I rather enjoyed our walk for breakfast. Again, on the way we managed to shoot some shots to highlight the role of women here in India, namely as roadsweeps. Our first port of call for the day was at Pamini's theatre where the students were preparing for tomorrow's performance at Ananth Technologies. When we arrived we found the students still preparing their puppets and as we'd shot some of this yesterday we booked a taxi to take us to Charminar which is a market and trading area in Hyderabad based around a 16th century mosque. We again wanted to get some shots of both the colourful trading and the poverty of India. Both were in plentiful supply. As well as some amazing colours on the stalls which sell everything from watermelons to jewelry, we saw some very sad sights including children with missing limbs begging on the side of the road. We also climbed the 160 ft structure and got some great shots looking out over the markets. When we returned we were happy to find out that our hotel manager had said that he was going to upgrade our rooms. The problem that we've faced since we've been here is painfully slow internet connection, sometimes it's been so slow that it has taken up to 5 minutes to load a single webpage. But now thankfully after we've moved up one floor to a room with a flat screen TV, air conditioning and slightly more comfortable beds we're now enjoying connection speeds that aren't exactly fibre optic but at least we're able to post our blogs in under 2 hours. After we moved we went back to Padmini's theatre where the student's rehearsals were now in full swing. After shooting this we returned to our air conditioned room to enjoy a bit of Bollywood on a flat screen TV.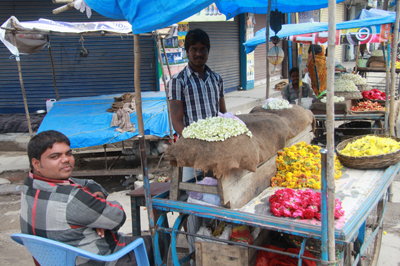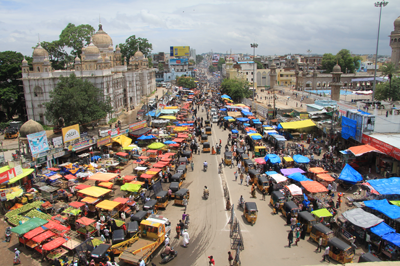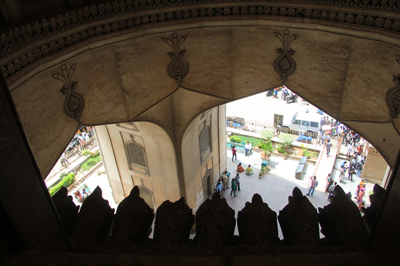 Shoot Day 26 – Thursday 25th July 2013, Hyderabad, India
Today was quite a big day for the students of Spoorthi Theatre. They were to perform an open air puppet show to the employees of Anath Technologies. After breakfast we loaded all of our kit into the car and made the short journey to Cyberbad. When we arrived we were greeted by Shashi Kumar from Ananth and Kashyap Devulapalli from Earth Sence , the e-waste recycling plant that we visited a few days ago. While we were waiting for the students to set up their stage we sat Kashyap down and shot an interview with him about e-waste. Although we did shoot an interview with him when we first visited, we mainly spoke about Earth Sense's role and how they process the waste. This time we spoke about attitudes towards the recycling of technologies and how we, as a planet can help each other when it comes to looking after the environment. It was then time for the students to perform. Quite a large crowd had formed, maybe around 100 which included employees watching from the windows many floors above and even from the rooftop. The students performed 2 plays, the first on e-waste and the recycling of mobile phones and the second on the problems of public transport. Both performances were a success and seemed to be very well received by the audience. We managed to grab a couple of vox pops with some of the Ananth employees who saw the show and were pleased to see that the message that the students were trying to put across had been understood as those that we spoke to said that they now would think twice about throwing away their mobiles when they had finished using them. A job well done!!! we were then treated to a fantastic lunch and shot a few scenes in the offices of workers at their computers as well as quick interview with Padmini & Shashi on their views on the performance. A great day all round!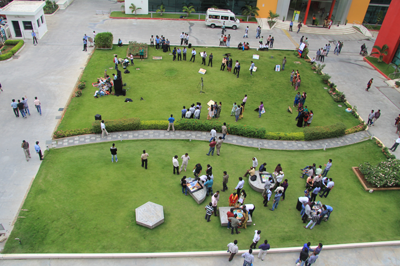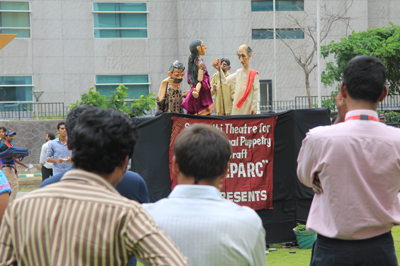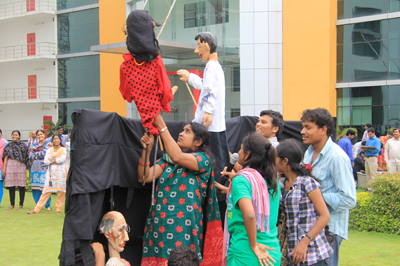 Shoot Day 27 – Friday 26th July 2013, Hyderabad, India
So we've entered our 2nd and final week here in Hyderabad and the last week of filming on the documentary. We had an early start this morning, leaving the hotel at 8am, so we didn't have time to make the journey to Coffee Day. Instead we stopped at another Coffee Day on the way to our first location to grab breakfast. Unfortunately their menu was different to our regular one, so after looking through the menu we didn't have to much of a choice. Vicky settled for Chilli Cheese on toast and I went for garlic bread. Garlic being the important word. Here in India they do like their garlic and I think each of my slices had a whole clove grated on top. After eating half a pack of tic-tacs we arrived at the Little Pearl's international School. One of the teachers who attended Padmini's workshop at Lamakaan a few days ago worked at the school and had invited Padmini and her students along to perform in front of the pupils and to also watch a puppet play put together by the the school. We were surprised to see even in front of 2 & 3 year olds how formal the occasion was with a 5 minute speech being made before the entertainment started. The play, put on by the school consisted of stick puppets & various toys and tried to teach the children about pollution and looking after the environment. Next it was Padmini's chance to perform, her and the students kept the play short and used rod and shadow puppets. The latter telling the story of 'The Red Flower'. We shot all the performances and although they may not feature heavily in the final edit it does show how far and wide Padmini's work goes throughout the community. Even though the children had now been sat down for nearly an hour they were still engaged and seem to enjoy the puppets. After 2 more speeches it was time to leave and head back to Ananth Technologies where we had an appointment to meet the CEO Dr Subba Rao. We filmed an interview with him about Ananth's corporate social responsibility and why they recycle their e-waste. Once we had finished we were surprised to be handed gifts by Dr Rao in thanks for the work we had been doing with them over the last week. Upon opening them we found an Ananth desktop clock & calculator. Our day finished quite early and we had a very rare few hours down time before heading out to find something to eat.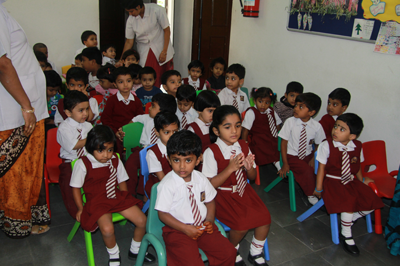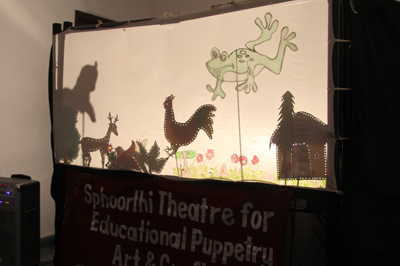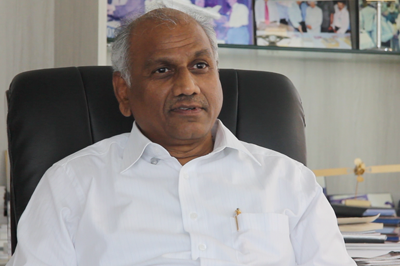 Shoot Day 28 & 29 – Saturday 27th & Sunday 28th July 2013, Hyderabad, India
We managed to get a rare day off yesterday (hence the lack of a blog!) and spent most of the day the day relaxing, we did however get a rickshaw to Lamkaan, the venue for Sunday's performance by the traditional puppeteers from Warrangal, a small viallage around 3 hours drive from Hyderabad. There we set up an interview with one of the puppeteers who spoke to Padmini about the importance of preserving the art of puppetry and why it should be handed down from generation to generation. After this we headed back to our hotel to freshen up before going for a meal at Barbecue Nation, hosted by Shahsi Kumar. Also there was Padmini and her son Anirud , as well as Shashi Kumar's wife and daughter. They were kind enough to give us a gift of a pearl necklace and earrings each.
This morning the alarms went off at around 5.30am and we made the very short trip to work, up 2 flights of stairs to our hotel rooftop to set the camera up to shoot a timelapse of the sunrise. Once in position we set the camera running and went back to bed! When we woke, a few hours later we collected the camera and made our way to Coffee Day to see the results. Unfortunately due to cloud cover we couldn't see the sun rising but do have a nice sequence of the Hyderabad skyline as morning broke. Walking back to the hotel we definitely saw some of the real India. Padmini had told us about a small temple not far from her theatre that she recommended we should visit, so we took a slight detour to try and find it. When we did, we found everyone very welcoming and they kindly gave us permission to film the ceremony taking place. The temple's here are very bright, vibrant and colourful places and I shot some fantastic footage that will sit really nicely in the edit. Along side us in the temple grounds were 2 goats who I filmed having paint applied to their faces. Now both Vicky and I have been in India long enough to know what was about to happen, so we agreed that we would leave before the goats were 'offered' the the gods. I continued to film the ceremony for a few more minutes as the women sang, lit candles and offered around a flame. Soon enough one of the goats was brought forward to the shrine, Vicky and I then made our thanks and said goodbye as we didn't want to witness the goat being sacrificed. What we had failed to notice that the first goat was already dead and lay in a pool of blood, as we turned to leave we nearly walked straight into the body. Our natural reaction was to jump at the sight and turn away, much to the amusement of the women there. We then looked away and edged out of the entrance. I'll spare you the photo but you can see another image below of a scene outside a butchers where a man on a bike was taking away goats skin as the carcasses hung in the doorway. Once we got back to the hotel we jumped into a rickshaw to go to Shilpa Ramam, an arts and crafts bizarre based just outside of the 'Hi-Tec' part of town. We spent a few hours walking around, buying gifts and enjoying haggling with the stall holders. We then had a short hour down time before heading towards Banjara Hills and Lamakaan. Padimini had arranged for a performance by the traditional puppeteers from Warrangal who we interviewed yesterday. We arrived early and ate a curry from their canteen (for the amazing prices of 180 rupees/£2 for the both of us!). We then set the cameras to film their performance. An audience of nearly 100 people had turned up to watch, including many young children who had never seen a traditional puppet play before. The performance contained the theme of women's role in Indian society and how they should be respected and empowered. After they had finished we interviewed a few children along side their parents who told us their thoughts on the play. It seems, at east according to the children we spoke to, puppetry still has a future here in India.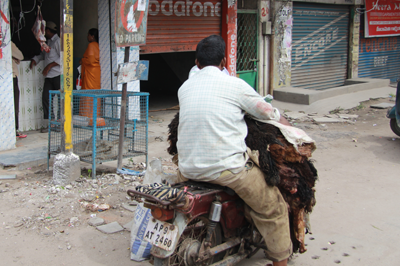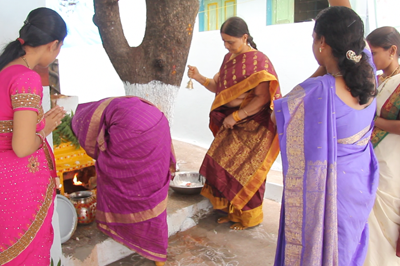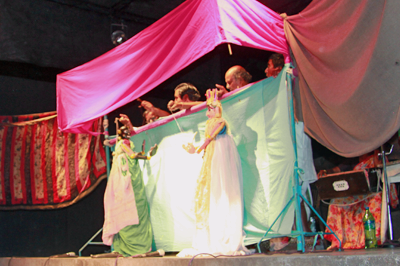 Shoot Day 30, Monday 29th July 2013, Hyderabad, India
We entered our final week of the documentary shoot with a new colleague, Professor Claudia Orenstein from Hunter University, New York who has been assisting Vicky with the research into the history of puppetry arts, joined us late last night. She has spent the last 2 weeks traveling through India conducting her own research and has joined us for the final few days. We spent the first part of the morning catching up with her over a coffee, during this time Vicky spoke to Dr Acharya, an environmental engineer, who has set up a social enterprise which runs an organic farm just outside of hyderabad as well as educating other farmers on the advantages of growing crops without pesticides. We were given his details by someone we met at Lamakaan last night at the traditional puppeteers performance. We made our way back to the hotel to pick up the rest of our kit before jumping in a rickshaw to go to his office. What we didn't realise at the time was his office was in fact only around 300 yards from the Coffee Day we had been sat in not 30 minutes earlier! We spent around 2 hours chatting to him and one of his colleagues and realised that both his work and our film had a lot in common, both focusing on environmental issues and empowering the common man to make a small but significant difference. we have arranged to visit his farm on Thursday to film the work that he is carrying out. After we left we walked across the road to visit a phone shop as we had been told that they have bins where people can recycle their phones. The one thing that did surprise us was that the bin was stored out in the back of the store and the staff had to search for it so we could film it in use.
We then headed towards Spoorthi theatre to meet up with Padmini, we needed to film a few shots with her to help the narrative, such as her at the sewing machine and on her mobile. After a quick coffee break Vicky, Claudia & Padmini spoke to a journalist from the Times of India who is writing an article for publication in the arts section on the paper on Monday. We'll have to get Padmini to send us a copy as we will be back in the UK by then. Our final port of call was the rooftop of Bheema's apartment where we set up an interview with Padmini ,where she spoke about the previous nights traditional performance. We then attempted a timelapse of the sunset, it's something we'd been planning to do since we arrived and tried a few days ago (see the video above at Lake Hassain Sagar) but unfortunately the clouds have been too thick. As we set up we were confident of a great shot, but as the sun set the clouds rolled in and again we didn't get what we wanted. We packed up, returned to the hotel to freshen up before hailing a cab to TGI Friday's.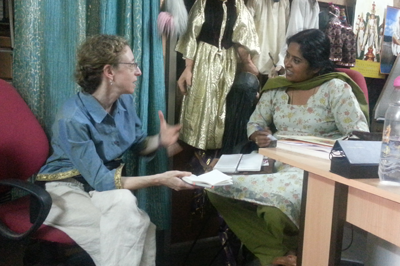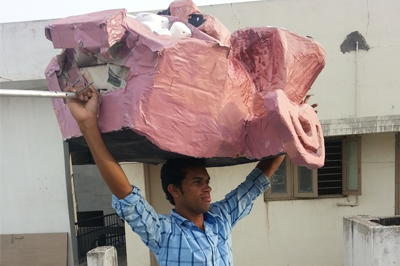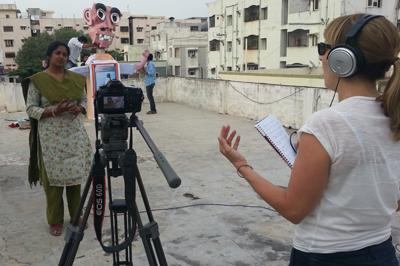 Shoot Day 31, Tuesday 30th July 2013, Hyderabad, India
Another 5am alarm clock greeted us this morning and another short trip to the hotel roof. We wanted to shoot a timelapse of the sunrise over the horizon of Hyderabad but thick cloud thwarted us we we attempted the shot on Sunday. Once the camera was set we went back to bed and collected the camera before we set off for the days filming a few hours later. Having just checked the footage, we unfortunately haven't got a sunrise but do have some great footage of the clouds blowing over the skyline as morning breaks – So it looks like another 5am start tomorrow! . Waiting outside our hotel was a car who took us to the Charminar and a school for slum children. Padmini had decided to put on a puppet show explaining how important it was to remain in education as well as looking after the environment around you. We were accompanied by a representative from Star, an NGO that helps raise awareness and improving the lives of under privileged children who live in slum areas. As we arrived outside the school we were greet by a group of very enthusiastic boys who were only too happy to help carry all of our equipment. We made our way up a few flights of stairs, past hundreds of children who were smiling, waving and only too pleased to see us. We shot Padmini's performance with 2 cameras, One fixed on a tripod at the front and the 2nd hand held and shooting cut aways. You could tell straight away from the reaction of the students that they were enjoying the performance. After it had finished we sat a 4 of them down to interview them on what they thought of the show, again the response was very positive, despite a few language difficulties we found out that they had not only had fun but also understood the message that Padmini and her team were trying to get across. After we'd packed up we again had a merry band of helpers to carry the kit back to the car. Before we left we took a walk through the slum and Padmini spoke to us on camera about the performance and the problems that the poor face in India. After a lunch of dosa's we returned to Spoorthi Theatre and met Padmini who took us to a temple that we had visited on our first visit to India back in February. We were again amazed at the colours, sounds and smells and shot a few more pieces for the film. We then came back to the hotel for a well earned rest before heading out for dinner. We're now moving into our last 2 days of production and shots are slowly being cross off the list. We've got the next 2 days planned, including an in depth interview with Padmini tomorrow, about her work in India and the project the group have been involved in over the last 2 months.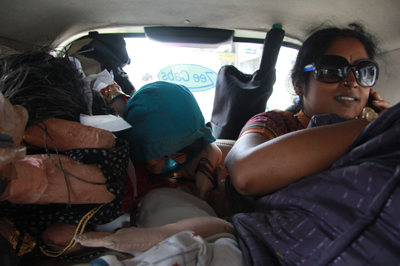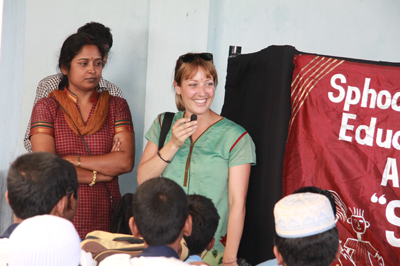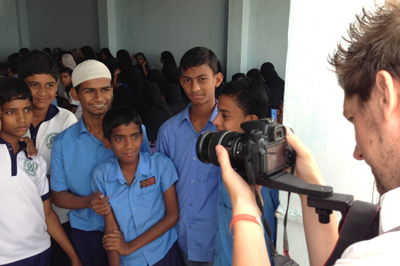 Shoot Day 32, Wednesday 31st July 2013, Hyderabad, India
We started our penultimate day shooting the documentary with rain. We've been quite lucky over the past week or so as it has remained dry and the sun even managed to shine yesterday. We had arranged to shoot an interview with Professor Rao, an expert in folk arts who we met briefly on our last trip. We travelled to his house and received a warm welcome by his wife and granddaughter. He spoke about the importance of preserving the traditions of ancient puppetry and his hopes for the future. Our plan was next to travel to Lumbini Park, one of the few green spaces in Hyderabad to film Padmini's final interview and get her thoughts on the lat 6 months. Unfortunately the rain was still with us and after checking the weather forecast, it looks like it's going to stay for the rest of our trip. We wanted to shoot the interview in a green space with flowers and plants as a backdrop because most of the interviews we have shot so far have been in slum areas or poorer parts of the city. One of themes on the interview was to be Padmini's hopes for the future and how she hopes India can improve, especially when it comes to the environment. Not far from Professor Rao's house is Lamakaan, the arts centre we have shot at, on a few occasions already. we knew that they had outdoor locations the we covered that we may be able to use for the interview. Once we arrived it was plain to see that it wasn't viable as the wind had dislodged the roof and the areas were both flooded. Over lunch we tried to come up with a third option. The photography studios of Ranjit Sinha, the mentor for the photography students in the project we only a few minutes away so we headed there. We've met him a couple of times on our travels and he's always offered help and told us we were welcome to pop in for a chat. We called him up and within 20 minutes we were sat in his office. We asked if he knew of any green spaces that were covered, unfortunately he didn't know of any but did offer us the use of his studio which does have a great garden. So tomorrow we plan to set up in his garage looking out onto the backdrop that we needed. Many thanks Ranjit, we really appreciate it!!!! As the rain was still falling there wasn't much more we could shoot so we headed back to the hotel to write our blogs and get ready for a night at Hard Rock Cafe!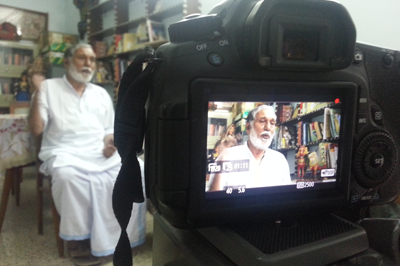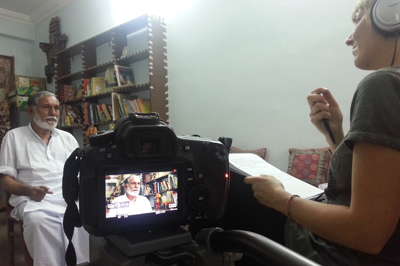 Shoot Day 33, Thursday 1st August 2013, Hyderabad, India
"…..and that's a wrap!". At just after midday, Vicky said the words. And that brought to an end 5 weeks of filming here in India…. We started the day with a trip to Sanathara Yoga Prachara Samithi Ashram, an organic farm based about an hour outside of hyderabad. We went to meet Dr Murali Acharya, the principal scientist at the farm. We met him a few days ago and found him very interesting as his beliefs and the story of our documentary run along the same lines. He invited us along to the farm so we could have a look around and see the work they are carrying out. The farm is still in it's early stages but when fully up and running it will produce organic food as well as educating both farmers from other areas as well as children on the advantages or organic farming. After a tour of the grounds, where we run to some of the very colourful local insects we spoke to Dr Acharaya on camera. His passion and beliefs really shone through and it's certainly something we'll take away with us when we return home. It was next Padmini's turn, we wanted to shoot her final interview yesterday but the rain had thwarted us. We did have another location on standby but the farm was perfect, as we started to set up the rain began to fall. Thankfully it was only a brief shower and we were able to get the interview in the can – we even managed to get Nani, the farm manager to swing the boom pole! Padmini spoke about her journey over the past few months and about her hopes for the future and she finished with a quote that will be the perfect end to the documentary and that had all of us with a tear in our eyes. We packed up and shot a few last GV's of Padmini & Dr Acharaya walking through the farm and also of the cows in the barn, and that was that! 33 days of filming had come to an end. We packed away our kit for the final time and sat down for a cup of chai tea with Dr Acharaya. He asked us if we would like to join him in 10 minutes of meditation. I must admit it's not something that I've ever done before but apart from the mosquitoes nipping at my legs it was very relaxing and peaceful. we were also offered a spoonful of organic chilli lemon chutney that had been produced on the farm – all I will say is, it's definitely an acquired taste! This morning was the perfect end to our work here in India, after packing away our kit we drove back Hyderabad and to Chutney's where we had dosa's for lunch. Tonight we're taking out some of the people who have made the documentary possible for dinner, we will be joined by Bheema, Gujanand, Prakash, Shasi Kumar and of course Padmini.
Tomorrow we leave to head back to the UK, our time here in India has been fantastic. We've met some great people who I'm sure we will be friends with for life. I've learnt a lot, not just about India but also about the world as a whole. I hope to return one day but for now, home is calling!